Buy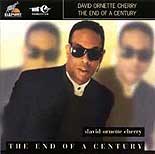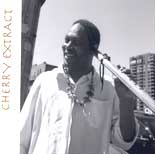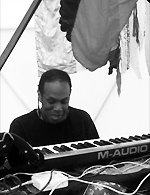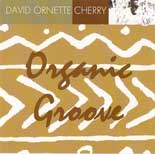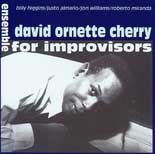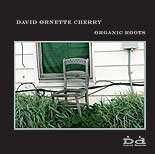 David Ornette Cherry Discography
It Could Be Different
When we talk about Jazz, we are talking about experimenters. Once the experimenting stops, the music gets stagnant. David Ornette Cherry is an experimenter, and with his new cd "IT COULD BE DIFFERENT", he brings his keyboard and soundscape magic to a fresh range of grooves and compositions, featuring the multi-talented Cherry Family along with some of his collaborators in the jazz and world music scene.        more…
It Ensemble for Improvisors – Live/Los Angeles
This project is called "ENSEMBLE FOR IMPROVISORS LIVE IN LA." I compose with the idea that all exist in a world of harmonies which mirror life evolving away from the chaotic (to the positive). There's not just a co-existence but a melding of forms to produce a single musical expression. This composition will be a part of that expression.         more…
Eternal Monologue, The Silence We Hear & The Story (Part One)
It is not freedom from something but the freedom to do something that determines the direction; that is, it's not the avoidance of tonality, consonance, meter and everything else likely to awaken associations with the past, but the unlimited possibilities of choice. The problem is never how to get new, innovative thoughts into your mind, but how to get old ones out. Every mind is a building filled with archaic furniture. Clean out a corner of your mind and creativity will instantly fill it. Creativity is seeing something that doesn't exist already. more…
Enter-Net
"Where is the freedom in a net," the Watts Prophets rap in the opening tune on David Ornette Cherry's Enter-Net. Like the net/web's limitless possibility also being a tool of control, the tunes here set feet freely tapping and dancing, while locking us into their addictive, propulsive grooves. David merges the African rhythms and drumming he grew up with in Watts ("African Nights Nu") with straight up dub ("Serious Dubbing"), creating a global "Nu Space" that lands in "Vietnam Nu."         more…
The Hillsboro Story
In a masterful collection of sounds and compositions, David Ornette Cherry's The Hillsboro Story captures the place, the drama, the characters, the two worlds, and the moods of those edgy times. His response musically has been a powerful infusion to the narrative, culturally and creatively. David's style is rooted in the free jazz being created around him as a child, in the garage bands in his hometown neighborhood in Watts, LA, in his high-stepping marching band at Locke High School that fused soul and rhythm, and in the world music arriving into his ears through his family travels and cultural climate of the 70s and 80's.         more…
Organic Journey
(CD Release Party April 16, 2009!)
Organic Journey marks the fifth and final CD in David Ornette Cherry's "Organic" series, recordings that have spliced together David's musical roots and the new branchings he continues to explore. Fittingly, here David enlists collaborators old and new; family and friends from his Los Angeles community, and musicians from his present home, Portland. The CD offers a retrospective tribute to mentors (his father Don, tabla master Tarinith Rao with whom David studied at Cal Arts in 1979-80) and inspirational figures (Fela Kuti, Langston Hughes).         more…
Organic Express: Back to the Electronic Garage
Organic Express marks David Ornette Cherry's return home from a decade-long musical journey. Back to the Electronic Garage expresses David's deep reconnection with his musical beginnings, the Watts garage where he began delving into music and finding his voice. The tunes here capture the particular worldly spirit of the Los Angeles David grew up in — the incredible artistic scene in Watts and Leimert Park, through which David found his peers. Following David's exploration of family heritage in Organic Roots, this recording coincides with the re-release of David's first outing, Beyond Electronic Garage: African American Grooves for the Common Man (© 1998 Beyond Video Group), where he collaborated with fellow electronic garagers — composers and video artist Jahian L, Mark London Sims and Ralph Jones — to integrate street vibes with African and jazz influences into a music for everyone.         more…
Cherry Jam: Open MIc
Cherry Jam: Open Mic is a spoken word project featuring writers performing their work on an open microphone. Contributing artists include: Susan Banyas, George Carrington, Leanne Grabel, Paul Harris, Renee Mitchell, Alena Vance, Terry Wolverton and David Ornette Cherry.
Organic Roots
David Ornette Cherry's Organic Roots shows, once more, that ontogeny recapitulates phylogeny — or, put in terms of progeny, the cherry never falls far from the tree. And where this Cherry falls, something beautiful sprouts and spreads, ripens and mellows: Organic Roots comprises an intricate musical rhizome, an offspring bred by recollection and innovation. The seeds of Organic Roots were planted in David's early life, when sound waves bearing inspiration passed through his eardrum's membrane and were absorbed by osmosis. The global rhizosphere in which these seeds germinated was warmed by light shining from his father Don Cherry, who created a true world music before the phrase existed.    
Organic Groove
Organic Groove is David Ornette Cherry's musical journey grounded in jazz seasoned with textures from far and near – touching a bit of the city, mood of the village and the world where spirit dominates the heartbeat. Cherry's multi-kulti influences cross geographic borders leaving indelible marks but always building upon the foundation of his musical heritage, jazz. There's calmness in the melodies and ferocity in the driving "garage style" rhythms. His music is an evolutionary transition not just a reference to the past and takes its place as part of the jazz continuum.         more…
Ensemble for improvisors
Ensemble for Improvisors is the brainchild of David Ornette Cherry featuring the unique creative collaboration of extraordinary, distictive musical personalities of David, the composer himself, on acoustic piano; Billy Higgins, drums; Justo Almario, reeds; Roberto Miranda, acoustic bas; and Jon Williams, trumpet. Movement One, Instantaneous Text is Colemanesque in flavor, both earthbound and galactic in flight, and a percusive, hypersensitive and ferocious masterpiece. Movement Two, We Remember When, is absorbing, both worldly and magical, and universally nostalgic. Movement Three, Start Off Fresh, is an intricate free-falling groove. more…
End of the Century
When our son David Ornette Cherry was born to Don and I in 1958, he along with his sister Jan Elisia Cherry and Denardo Coleman ate, slept and toddled through the historic Los Angeles Mariposa Street rehearsals and "woodshedding" of the original Ornette Coleman quintet of Ornette, alto sax; David's father, Don Cherry, pocket trumpet; Walter Norris, piano; Don Payne, bass; and Billy Higgins, drums. (Something Else! Contemporary Records (S7551) In 1958 and 1959, the Mariposa address was a mecca and literal home for the curious and for creators and producers of contemporary music who came to listen and "sit in" or just question the process of collective improvisation. Some of these open-minded and curious contributors and supporters of the music were bassists Charlie Haden, Percy Heath, Red Mitchell, and Scott LaFaro; drummers Lawrence Marable, Frank Butler, and Shelley Mann; pianists Elmo and Bertha Hope, John Lewis, and Horace Tabscott; and Atlantic Records Nesuhi Ertegun among others.         more…